Replacement Windows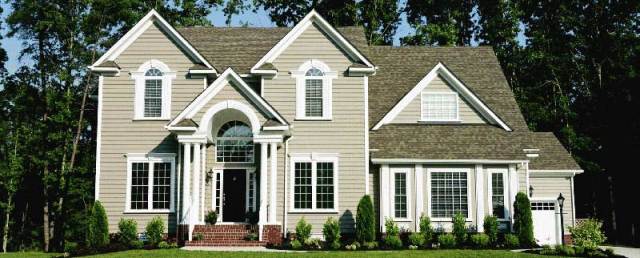 Installation Facts
Making the decision to replace your home's windows is a big one. Design, window style, window manufacturer, and of course costs are all factors. At Custom Home Improvements, Glen, Dan and Ron are here to help you through this process, assuring you get exactly what you want and need.
Vinyl or Wood Windows
Double Hung
Our windows are a breeze to open from both top and bottom. Sashes tilt in to clean. Child safety locks allow a four-inch opening when desired. Metal-reinforced and foam fill sash and frames.
Double Sliding
Either sash opens and swings in for ease of cleaning. These windows glide trouble-free through extended use. Interlocking frame, double latches and double weather-stripping seal your home against the weather. Child safety locks are built in.
Bay and Bow
These majestic windows add depth and beauty to a room. Built to last of birch or optional oak; supported strong and firm from your home's frame with stainless-steel cables. Interior seat depth to 19 inches. Casement end-windows open and close. Low-E and argon glass available.
Doorwalls (Sliding Doors)
Custom built any width from five to 12 feet, doorwalls are pleasant to look at and pleasant to use. Self-lubricating titanium steel rollers mean maintenance-free, easy operation for years. Interior and exterior handles match doorwall color; available interior handle of polished brass or brushed chrome. Exterior handle has keyed lock. Heavy duty screen won't accidentally jump off track. Bolt lock locks door four inches open when desired – or double-locks it shut. Interlocking frame and double weatherstripping keep drafts out. Choose available beveled glass for a distinctive look. Low-E and argon glass are available.
Casement
Gliding open or shut with the turn of a hand, casement windows can steer a lovely breeze right into a room. With their interior screens and molded frames, casements lend a home a modern, clean exterior. Casements open all the way – until the sash is perpendicular to the frame for easy cleaning. Remove screens in winter for an unobstructed view. Multi-Point Locks compress double vinyl weatherstriping when casements are shut, making them the most weather-and wind-resistant of any window. Operating handles fold flat so as not to interfere with drapery or blinds. Low-E glass and argon glass are available with all casements.
End-vent casement windows give you home lots of curb appeal. Their center picture window provides a beautiful focal point; the end casements offer excellent ventilation.
Double casement windows also offer beauty and utility. They open and close with ease – and seal tight against the weather.
Single casement windows hinge left or right and can be used in multiple configurations up to a large 44" widths.
Awning casement windows tilt open from the bottom about 30 degrees. Often used with obscure glass in bathrooms, they ventilate nicely and keep rain out even when open.
Transom casement windows are made of an awning casement with a picture window on top or bottom. Use transom windows side-by-side for a great view always – and fresh air whenever you like.
Garden
Garden windows are a cheerful addition to any home. Often used in the kitchen above the sink, their expansive interior – about two feet deep – make a great place for your house plants. Casement windows on either end open enough for generous ventilation.
End-Vent & Center-Vent Sliding
End-vent sliding windows are generally used where a sliding window is preferred but the opening is more that 72 inches – too wide for a standard double siding window. They open at either end and come with two screens. Child safety locks are standard. Sashes swing in to clean.
Picture
Non-moving picture windows often are used in conjunction with other window types. They're made with insulating glass and fusion-welded, multi-chambered insulating frames – and they're guaranteed.
Why is Custom Home Improvement your best choice for quality window installation?
Expect an efficient process
We'll measure your window openings and custom make the windows to fit.
We'll phone you to set up a date for installation.
We'll typically install your windows in 1 or 2 days.
We will haul the rubbish away.
The ABCs of installation
We'll "tarp out" your house, covering your flooring with protective cloths around the windows.
We'll remove your old windows; with most window types our goal is not to break a pane of glass.
We'll install and adjust each new window, filling in where necessary with Fiberglas insulation for a weatherproof, snug fit and caulking the exterior.
We'll reinstall the original interior stop moulding around your windows.
On most home we will cover the outside trim with aluminum for a maintenance free exterior.
We'll test each window to make sure it opens and closes easily
We'll clean up inside and out
We'll take the time to show you how your new windows work and answer any questions
After we've gone
We know you'll be satisfied – just like generations of homeowners who have Custom Home Improvement windows.